The Body Guide is here! How I got in my best shape ever, and bounced back from the dreaded quarantine 15!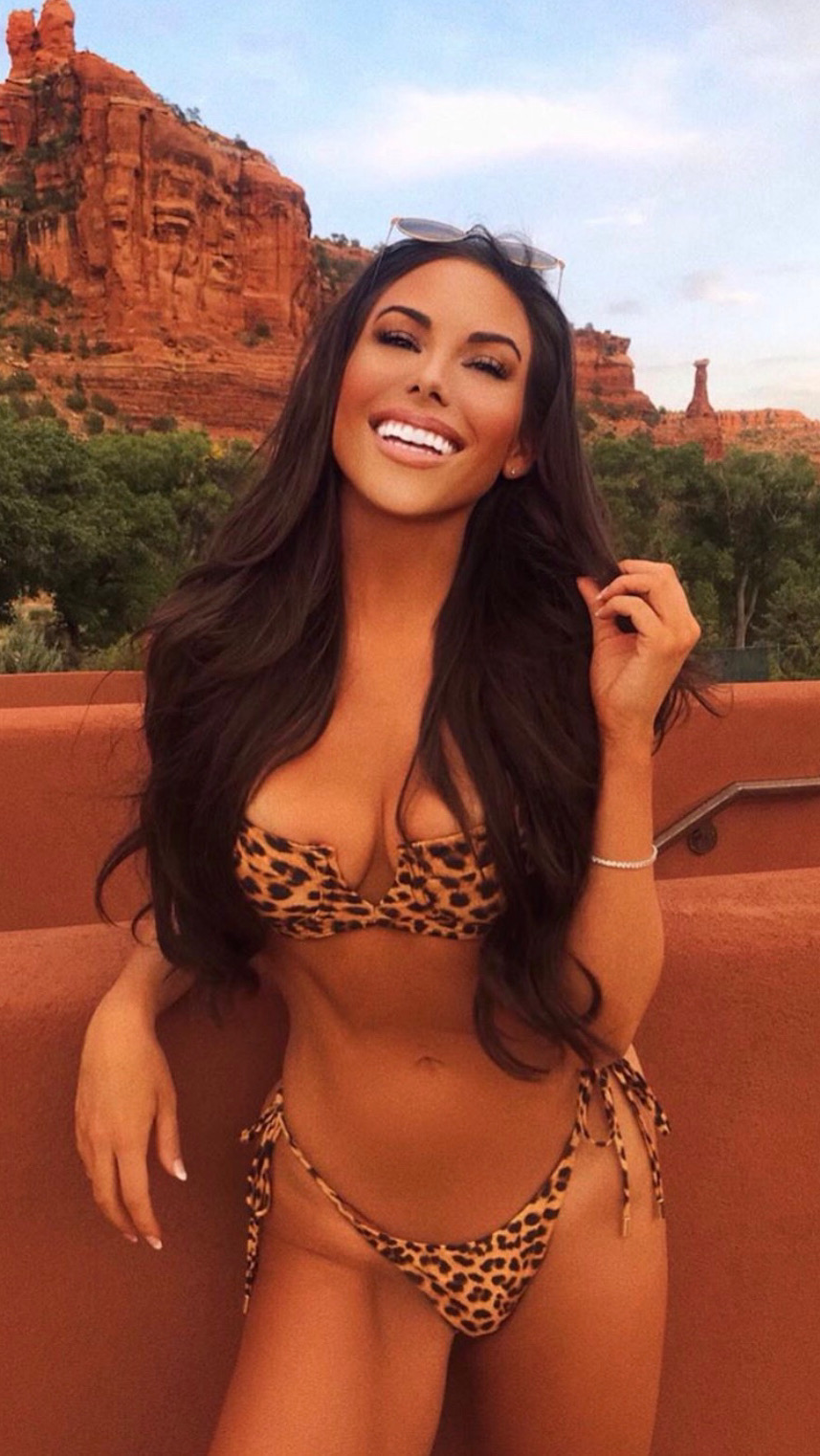 Simple, sustainable + a whole lotta self-love
♡

If I could help every girl feel happy, healthy & beautiful, that would be my super power...


These are the confessions of a regular girl! I'm a far cry from a fitness model, personal trainer, doctor, or a nutritionist. I have no special certificates or degrees to give me any right to tell you what to eat or how to workout. However, what I do have is 30 years of experience of being a girl. A girl who has spent the majority of her life struggling with her body-image and relationship with food. A girl who just wanted to feel good in her own skin and happy with what she saw in the mirror. A girl who just might be a whole lot like you...

For so many, years I naively thought that the only way to achieve my dream body must be to spend hours in the gym every day ((hours that I didn't have, plus hated working out!)) & that the girls whose bodies I admired on Instagram must eat nothing but 3 bites of grilled chicken and kale each day. After-all, I thought that I had tried every "healthy" diet in the book, none of them gave me the results I was looking for, and they felt like torture to stick to! Feeling low-energy, weak, bloated, and hungry all the time was "normal" to me, because I didn't know any better. I feared anything with fat or over 300 calories, yet deemed a 100 calorie pack of something-or-other "not bad" simply based on it's cals. A "skinny vanilla latte?" Sign me up! If I was consuming all of these "skinny" foods... where on earth were my abs?! 😉


Side note: Since we're on the subject, who knew it would take until age 29 & bouncing back from pandemic weight gain, "the quarantine 15," to to finally figure out the secret sauce to poppin' ABS!?!? Not me! Excuse me, Universe... I could've used this simple recipe 10 years ago during my prime pool party years, but better late than never, I suppose!


Anyways, back to our story... eventually, Little Miss E moved to Los Angeles, the land of green juice & home to the most hard-bodied people in all of America. My apartment building was glittered with nothing but Instagram models, Bachelor contestants, and YouTube sensations who all looked like they just stepped out of a photoshoot. Something had to give! Thankfully, my favorite ((& most friendly)) neighbor was, Joe. Trader Joe's. Yes, this is where my love affair with Joseph began... The year was 2017, and since I was spending 97% of my money on my overly expensive ((albeit absolutely fabulous)) apartment, I learned how to get extremely creative with my teeny tiny food budget. I needed to make things that were "healthy" and v inexpensive. This has paid off in the long-run, because now I only end up paying ~$50 // week on groceries, make 95% of all of my meals at home, and they're very healthy and nutritious by anyone's standards! ((Of course I'm going to tell you what I get & share all of my favorite recipes, don't worry...))


LA is also where I started collecting the best tips from all of these gorgeous people with chiseled bodies who had professionals on hand telling them what to do to achieve such perfection. Turns out, the "insider secrets" were oftentimes quite simple and back to basics. They ate lean protein & plenty of veggies ((Yeah, maybe they were prepared by Craig's or Mastro's, but hey!)) Gluten-free everything (("but omg, I could NEVER do that!!!" I thought...)) They introduced me to Intermittent Fasting (("Intermediate WHAT?!" I had never heard of it in my life...)) And you're going to die, but the way that I first heard about Keto was when this super in-shape gentleman I was with quite literally BROUGHT HIS OWN AVOCADO & TRUFFLE OIL to brunch because he told me he needed to make sure he, "Got his fats in."

Now perhaps I should interject to state that all of these health topics were typically discussed over 10 am champagne, or while on our 50th tequila soda of the evening, so... ya know... not exactly the total vision of optimal health, however it all began opening my mind to these health "trends" that seemed to ACTUALLY create dream bodies! These people, with their jawlines that could cut glass, were on the cutting edge of health + fitness because their lives and livelihood quite literally depended on it. I experimented, and pick & chose what I could incorporate into my own lifestyle... Which is much more "lazy girl" than fitness chick" and certainly more budget than boujie. I kept what worked & trashed the rest...


Over the next 3 years, I became my healthiest self ((despite also being my booziest! Single girl probz)) I learned so much more about nutrition, stuck to IF, and made myself a human guinea pig to try out all of these wild diets ((like keto)) in order to write about my experience on my blog. Sure, I fluctuated like hell, per usual & to be expected with trendy health programs, and then COVID hit...


Like everyone else, my world was flipped upside down. I was laid off from my job. I was knocked on my ass. I found comfort in endless bottles of Pinot Grigio, Netflix binges, and bottomless bowls of pasta. Anything to get me through, I thought. I started to gain a few pounds, but I didn't care. Much bigger issues going on in the world. I had just gotten into a steady routine of pilates + Pure Barre classes before Corona, I was working out religiously for the first time ever, and I had to kiss it all goodbye. With that, I also had to bid adieu to to the peace + new good sparkly vibes that were a byproduct of the confidence that hitting my workouts was bringing me. Working out at home sounded like the worst thing in the world to me, I tried once or twice but just couldn't get into it. The daily mood was: bloated, brain fog, low-energy, consistently saying, "I don't feel good..." shitty sleep, and the worst of it all: low self-esteem. Yucky. Gross inside & out. I fell into a mild depression, was constantly ridden with anxiety, and felt like crap. For awhile...


Until one day I woke up & decided it was TIME. Time for EG to GET HER GROOVE BACK! 💖


But this time was different... For the first time, it wasn't about me looking at photos of a gorgeous bombshell online and thinking, "I want to be pretty like HER," but instead, "I want to be pretty like ME."

SELF-LOVE became the theme... For the first time ever. A feeling that's quite new for me, and a feeling that I wish for EVERY WOMAN.


So! Y'all can see by now that I'm a chatty broad 🤪🥂✨
Since it would be entirely impossible for me to outline my entire journey in one email... What I'm going to do is tell you WHAT I did to finally get the body of my dreams...


& If it sounds interesting to you, I created:
The Body Guide
which details + dives deep, step-by-step, HOW EXACTLY I got in my best shape ever, so you can too!



Yes, it's about transforming your body, but much more than that, its about FEELING absolutely incredible, vibrant, high energy, and confident! Not because you're X lbs, but because you feel so proud that you're taking such great care of your body, keeping the promises that you make to yourself, crushing your goals, really nourishing yourself from the inside out, and it shows ♡ It shows in your physical results, but it also shows from the new sparkle in your vibe.


It's like I found the missing ingredients to the secret sauce that I needed all along! Everything CLICKED & I started feeling better than ever. No more fads or yo-yo dieting. No more torturing, no more restricting. The most astounding results I've ever achieved have come from nourishing and fueling my body.


So here's what I did:
♡ Mindset & Self-Love ♡
Leading up to my 30th birthday, I decided that I was going to become my best self, ever! I kickstarted an amazing journey of self-love and confidence... Social media always made me feel like I had to "keep up," but at some point I was like... F* THIS invisible competition I've put myself in with these models with unrealistic body types. I threw in the towel. I was done. I no longer wanted to be pretty like "her," I wanted to be pretty like ME. In MY best shape, whatever that looked like! I wanted to slip into my new leopard bikini and strut my stuff at the pool on my 30th & feel like a GODDESS, dammit!!! I decided that it's what I wanted most for my birthday, and it was something that could not be bought. I had to do it for me. & As the story goes, that's just what I did. I started by reading some life-changing books that helped me completely makeover my self-talk. Turns out, I have always spoken quite rudely to myself... For what?! I started coming up with happy, healthy routines that pumped up my good sparkly vibes every day, and now? I'm happier than ever. I'm not kidding! Everyone in my life has noticed it! This shift in consciousness has changed my life forever, and I spill every single thing I'm doing, in The Body Guide.

♡ Intermittent Fasting - My 2+ Year Results ♡
IF is everything, but I know at first that it can seem super overwhelming! How exactly does it work? How do I start? What are the "rules?" Why should I do it? What does it DO?!?! Is it for me? I will break down all of my personal results, my best practices, and why it's been so life-changing for me! Again, I'm no health & fitness expert, there are a million know-it-all's on the internet who have very strong opinions on fasting, diet, and the like... I'm not one of them. I'm just a girl telling MY story of how I got in my best shape ever, the healthy way.
♡ Diet ♡
The short answer: I eat nutrient dense, clean, whole foods - aim for a daily diet of: low carb, high fat, high protein, gluten-free, no refined sugars, light dairy ((just cheese, my one true love)), and lots of fresh fruits & veggies. While this may sound like the most boring, difficult, restrictive diet... I pinky promise that it's NOT at all. I feel like I've hacked the system because I find all of the meals that I eat to be so incredibly delicious and satisfying that I quite literally do not crave any of the "naughty stuff" anymore! In fact, because I now that I actually know what amazing, vibrant & high-energy feels like and I pay attention to the way that different foods make me feel, I am "allowed" to have a "cheat meal" whenever I want, but I very rarely do because I know what the price tag is: feeling like crap. I'm a chick on a budget, and I've mastered the art of spending only ~ $50 at Trader Joe's every week. In The Body Guide, I also include my Ultimate Healthy Trader Joe's Grocery List & 25+ Easy Meal Ideas!
♡ Fitness - Pilates, Walking // Running for Beginners ♡
If we're going to be bff's, I have a confession to make... I am quite lazy. 90% of days, I wake up NOT wanting to work out. The Q = anxiety was at an all-time high. I missed my barre & pilates reformer classes like crazy. One day, I just couldn't take it anymore... I charged up my otherwise lonely headphones, threw on my most high vibe playlist, laced up my favorite Nike Frees, and stepped outside. I hadn't worked out in weeks, and I definitely hadn't gone for a run ((okay that's ambitious, my stride has always been more of a light jog!)) But the combination of the stir-crazy nerves, bumpin songs, and fresh air made for this crazy sensation to wash over me: my little legs just started to RUN. And it was exhilarating. So we started our "at-home fitness journey" there, and then worked up to finding online programs so fabulous & addictive that I don't see myself going back to the studio anytime soon! + The fun little fitness challenges that I made for myself to really whip my booty into shape.
♡ Cycle Synching ♡
A few months into The Q, my girlfriends and I all started noticing something strange happening... our periods were SO off. While we were usually so regular &right on time, typically down to the day, all of a sudden our periods were LATE ((which is enough to send any girl into a panic!)) Like, late late. After it ended up showing up ((and being the worst periods, EVER)) I couldn't help but think about how WEIRD it was... So I took to my FB group, Basic Repellent, and innocently enough asked if anyone else was having issues with their period. To my surprise, HUNDREDS of women commented and expressed that they too were having irregular periods, when that was totally uncommon for them. All of this new knowledge sent me into a tailwind of researching + deep diving into our menstrual cycles. I was like... Isn't it kinda crazy that I've been having my period every single month, for nearly 20 years, yet I know next to nothing about what's actually going on? Not only that, my PMS symptoms were getting so out of control + I felt "hormonal" 12+ days before my period was due to arrive... Half of the month! Torture! So I stumbled upon this phenomenon called "Cycle Synching," which essentially tells you how to eat and how to exercise based on where you're at in your cycle ((who knew there were 4 phases?!)) to work WITH your body and the hormones, which drastically reduces PMS symptoms and regulates your hormones. This was world rockinggggg information for me & has cut back my PMS days to only 2-3 which is insane. The problem was, there aren't tons of people talking about it! The gurus hoard all of this precious information and stuff it into expensive courses... And then once you finally have the info, it's written in total medical jargon that was so difficult for me to understand! But I was determined. And I did my best to decode it all & share everything I've learned on the subject in the guide!


If you've made it this far & have enjoyed what I've had to say, you're going to love The Body Guide! The no-bulls#*t, easy, life-changing tips & tricks that ANYONE can benefit from ♡


Here's the Full Body Guide Curriculum!
14 Fun, Bingeable Chapters To Help Guide You on YOUR Self-Love & Best Health Journey!
♡ Mindset: Happy, Healthy Headspace!
♡ Makeover Your Morning
♡ Developing Unbreakable Healthy Habits
♡ Intermittent Fasting ((My 2 Year RESULTS))
♡ The Diet That Changed My Body + Makes Me FEEEEEL Incredible & Satiated
♡ Life-Changing Vitamins & Supplements
♡ Fitness: The Best ~ 30 Min Workouts to Tone Up & Blast Fat
♡ Love Your Period: Cycle Synching
♡ Hack a More Feminine Figure, Reduce Cellulite & Other Game-Changing Bonus Tips!
♡ Snatched by Saturday: How To Look Your Absolute Best in a Week for Vacay or a Special Event
♡ Trader Joe's Ultimate Healthy Grocery List + 25 Easy Meal & Snack Ideas // > $50 Week
♡ The Easy Healthy Swaps to Make Today
♡ How To Read Nutrition Labels Properly to Clean Up Your Diet, Instantly
♡ & A Whole Lotta Self-Love...


See you inside, I just know you're gonna love it!!!

XOXO,
E
Frequently Asked Questions
When does the content unlock?
The Body Guide officially launches & the content unlocks on Monday 11.2! ♡
How long do I have access to the course?
How does lifetime access sound? After enrolling, you have unlimited access to this course for as long as you like - across any and all devices you own.